Many of you have been asking for it, so …
… for the first time ever Artisan Farmers' Market Society is holding an indoor winter market.
Come take advantage of this fantastic opportunity to buy your Holiday and Christmas gifts locally and support the community's makers, bakers and growers. (See Vendor List and Market Details below image)
The Holiday Market will be held this week, indoor at Lonsdale Quay from Thursday to Sunday (December 1 – 4, 2016).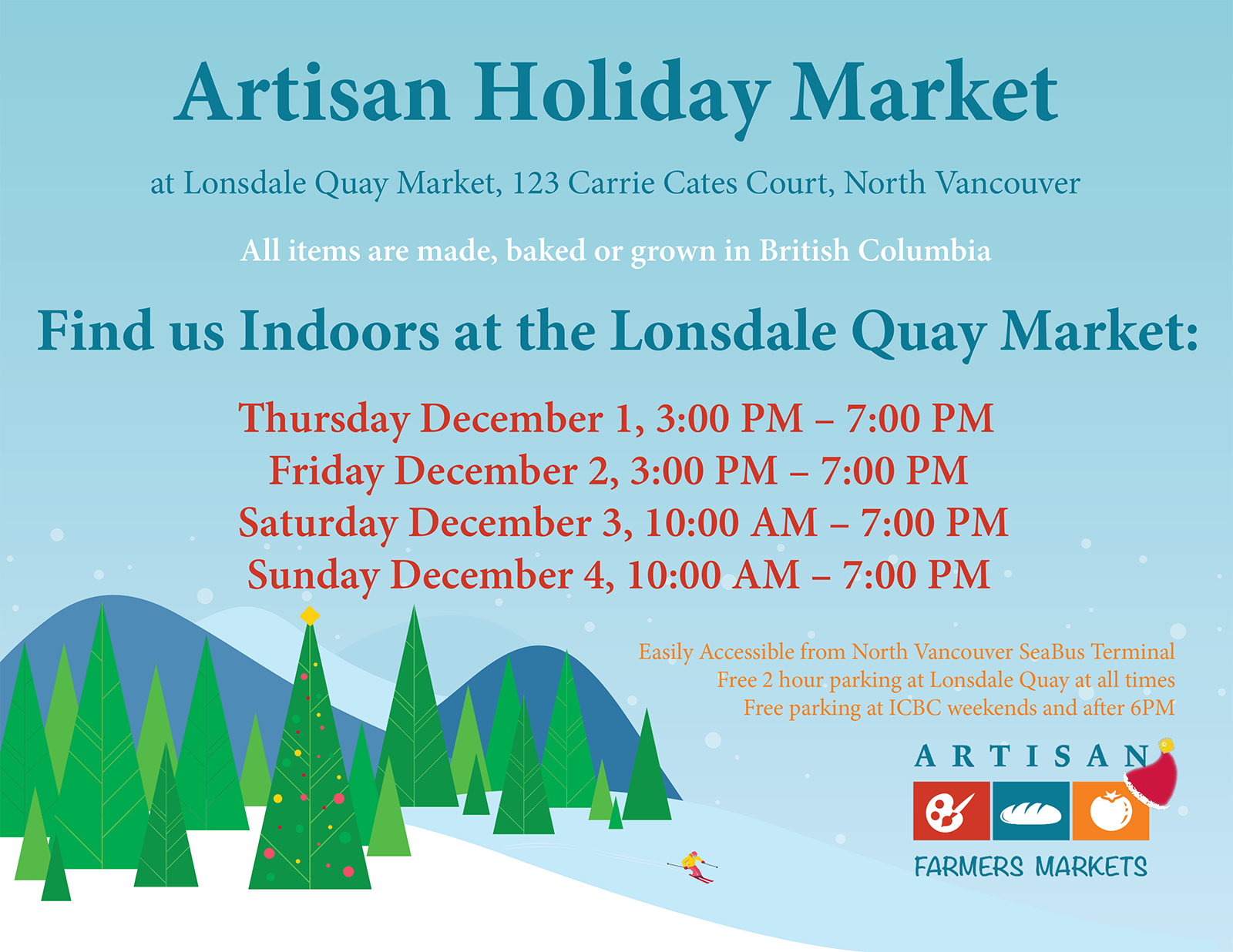 Christmas Market Hours:
Thursday, December 1 … 3pm to 7pm
Friday, December 2 … 3pm to 7pm
Saturday, December 3 … 10am to 7pm
Sunday, December 4 … 10am to 7pm
Market Vendors:
Abbey Lane Farm, abbeylanefarm.ca
– Natural body & skin care products made in Vancouver from botanicals and herbs grown in Lister
Abbotsford Youth Group
Stones and Weave, www.facebook.com/Stones-weave-479310968864448
– One of a kind, hand made bracelets & necklaces from genuine leather, semi-precious stones, and metal made in Yarrow (Thursday, Dec. 1 only)
Ambercott Acres, ambercottacres.com
– Teens selling crafts and baked good to raise money for their trip to El Salvador
­Dried fruits and vegies from a family-run farm near Cawston
Coast Protein, coastprotein.com
­
– Protein bars from New Westminster, high in sustainable cricket protein and gluten, dairy, soy, GMO-free
Edible Garden Project, ediblegardenproject.com
– Building community on the North Shore in neighbourhood farms and gardens to bring you fresh-picked produce
Fleur de Sel, saltspringseasalt.com
– Infused savoury blends of sea salt hand harvested on Salt Spring Island
French Press Linens, frenchpresslinens.ca
– Monogrammed dinner napkins in, providing the final touch to a beautiful table, made in North Vancouver
Green Leaf Brewing's Jarbucha, jarbucha.com & greenleafbrew.com
– Premium raw kombucha made with organic tea, fermented and juiced with real fruit in North Vancouver
Grouse Pathfinders, http://lionsareagirlguides.ca/districts/grouse/
– North Shore Girl Guides in Grades 7 to 9, selling items to attend an outdoor camp in Smithers, BC
Korry & Suzanne's Knits and Photos
– Hand made knit items made in North Vancouver and artistic photos shot around the world
Little Bird Blue Designs, etsy.com/ca/shop/birdbluedesign
– Upcycled jewelry, handmade one of a kind designs from Squamish
Little Ray of Sunshine, facebook.com/pg/squamishrayofsunshine.ca
– Tie-dyed and custom dyed garments, hand-dyed in Squamsh
Mountain Naturals, mountainnaturalssoap.com
– Hand made soaps and all natural body products for you and your home made in Port Coquitlam
North Shore Artists Guild, nsartists.ca
– Paintings in a range of styles, subject matter and mediums from 325 members in an active North Shore guild
Odd Society Spirits, oddsocietyspirits.com
– Vodka, gin, vermouth, cassis and white lightening distilled in East Vancouver from BC grains
One Thing Designs, onethingdesigns.com
– Bracelets, necklaces and lockets inspiring human connection by asking "What is one thing you bring to this world?"
Ooh La La Cosmetics, facebook.com/pg/ohlalacosmeticscanada
– Comforting body products hand made from organically grown herbs and BC mountain water
PR Bannock Factory, facebook.com/PRCateringCreations/
– Sweet and savoury bannock made in North Vancouver
Randy's Wreaths, randyswreaths.com
– Christmas gifts lovingly made in West Vancouver in memory of Randy Lancaster, benefitting Lions Gate Hospital
Refresh, Enactus SFU, http://enactussfu.com/refresh/
– Sustainable Jam made collected surplus food products from grocery stores in the Lower Mainland
Rocky Creek Winery, rockycreekwinery.ca
– Award-winning wines from local vineyards on Vancouver Island
Soap for Hope, Enactus SFU, enactussfu.com/soap-for-hope/
– Liquid soap made sustainably in Vancouver's Downtown Eastside from sterilized slightly used hotel bars of soap
Urban Digs Farm, http://www.urbandigsfarm.com/
– Local, free-range, pastured, ethical, sustainable pigs, pork from a ranch in Merritt, butchered in Vancouver
Wheelhouse Seafoods, eastvillagevancouver.ca/wheelhouse-seafoods
– Fresh seafood and organic/free run meat from a family operated business in East Vancouver
Waldorf School, Grade 11
Christmas cards, calendars and lanterns made by students fundraising for their Grade 12 community service trip
Claw Foot Spa, clawfootspa.com
– Natural Handmade Luxury Spa Products Specializing in Sensitive Skin made in White Rock
Located at Lonsdale Quay Market, North Vancouver:
123 Carrie Cates Court, North Vancouver
Easily Accessible from North Vancouver SeaBus Terminal
Free 2 hour parking at Lonsdale Quay at all times
Free parking at ICBC weekends and after 6PM
See you there!